Vikings coach Zimmer likes team's identity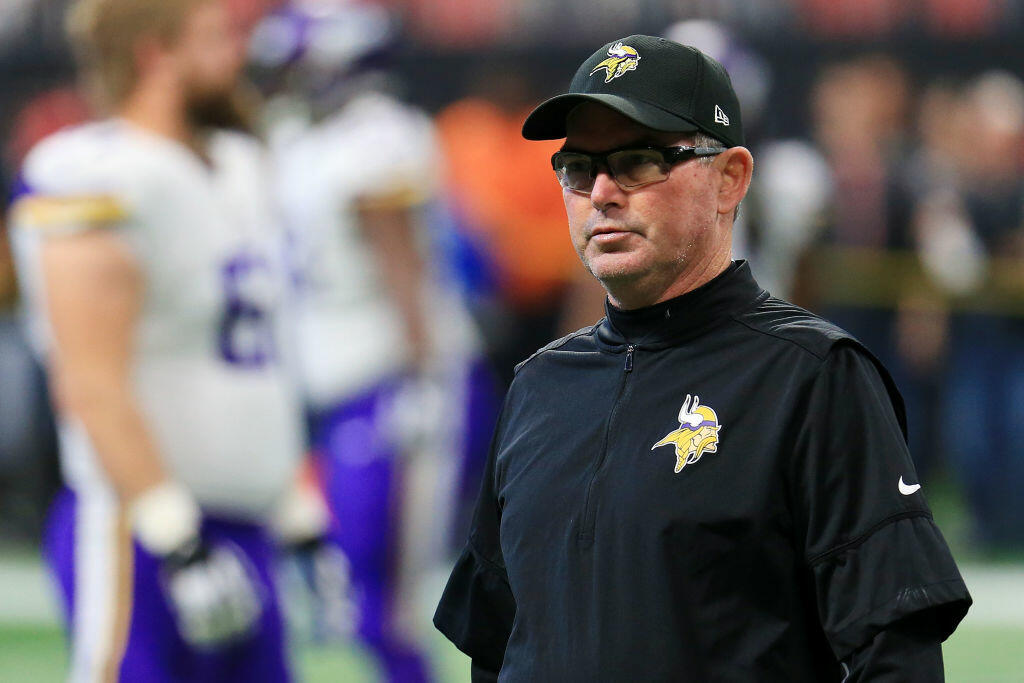 EDEN PRAIRIE, Minn. -- Head coach Mike Zimmer stands atop a franchise that has reached 13 wins for only the second time in club history. He has received universal praise for masterminding the best defense in all the land.
And his Vikings (13-3), with Case Keenum at quarterback, are favored by 4 1/2 points to beat Hall of Fame-bound quarterback Drew Brees and the New Orleans Saints in a divisional playoff game at U.S. Bank Stadium on Sunday.
But ...
The coach in Zimmer has found a slight that he'd like to exploit to help nudge his players to an even higher stratosphere than winning 10 of their last 11 games.
Zimmer was asked a simple question Wednesday about whether he is watching tape of the Week 1 meeting with the Saints. He paused and said: "Yes, I've looked at it several times."
Then he started to say something, caught himself and said: "I won't say it."
Then he said it.
Zimmer doesn't like one of the popular narratives this week that says the Saints lost 29-19 in Week 1 in part because they were a team still trying to find its identity.
Offensively, the Saints still valued running back Adrian Peterson more than rookie Alvin Kamara.
That was a mistake they wouldn't rectify until trading the disgruntled Peterson to Arizona and clearing the decks for Kamara and Mark Ingram II to become the first running back duo in which both players topped 1,500 yards from scrimmage.
Defensively, the Saints were breaking in new starters in that Week 1 Monday night game.
In his only full game of the season, Vikings quarterback Sam Bradford set career highs for completion percentage (84.4) and passer rating (143.0) while throwing for 346 yards, three touchdowns and no interceptions.
"Sometimes, I get ticked-off about, 'Well, they have to find their identity,' and, 'that was Week 1,'" Zimmer said. "Did anyone in this room think we were going to be 13-3 and play in a divisional game that week? Did we know our identity? Everybody said we weren't going to be worth a lick anyways, so I just think everybody is like that."
Keenum, who played all but six quarters of this season, will be making his playoff debut, while Brees is a Super Bowl-winning quarterback who will be making his 13th playoff start.
Brees is one of only five players -- including four Saints -- in this game that played in the Saints' 31-28 overtime win over the Vikings in the NFC title game eight years ago.
"Obviously, you like to have a Hall-of-Fame quarterback playing for you," Zimmer said of the difference in experience at quarterback. "What really matters is how we play on Sunday, and we play as a team, and we do the things that got us there, we're a smart football team, we take advantage of opportunities.
"I think all of those things are important and at the end of the day, it still comes down to football, the things we've done during the season, offensively with the quarterback, taking care of the ball, throwing it to the right spot, getting us in the right checks, so on and so forth, are more important than playoff experience. And I do think playing at home is an advantage for a young -- well I don't know about young -- but inexperienced playoff quarterback."
SERIES HISTORY: 33rd all-time meeting. Vikings lead series, 21-11. Vikings are 13-3 at home, including 1-0 in the playoffs. They beat the Saints 29-19 on Monday Night Football in Week 1 this season. The teams have met three times in the playoffs. The Vikings are 2-1. They won a wild-card meeting 44-10 at New Orleans in 1987 and a divisional round game 34-16 at Minnesota in 2000. But one of the more painful losses in team history came during the NFC title game during the 2009 season. The Vikings turned the ball over five times at New Orleans, but still were in position to kick a game-winning field goal in the closing seconds. The Vikings were called for 12 men in the huddle. Then Brett Favre threw an interception, and the Vikings lost 31-28 in overtime.
--Cornerback Xavier Rhodes shadowed one receiver throughout a game 10 times this season. But one of those times didn't come in Week 1 against the Saints.
In that game, Rhodes shadowed Michael Thomas for only parts of the game. So, what will the Vikings do Sunday when the teams meet again in an NFC divisional playoff game?
"I'm used to (shadowing) a receiver because that's what I've done for a long time now," Rhodes said. "I'll do whatever."
Meanwhile, Saints rookie cornerback Marshon Lattimore was making his NFL debut the last time these teams met. He went on to have a season worthy of NFL Defensive Rookie of the Year consideration.
Lattimore didn't shadow one receiver in the season opener, but went on to do so six times during the regular season. If he does shadow a receiver, will it be Adam Thielen or Stefon Diggs?
In the opener, Thielen had nine catches for 157 yards, but Diggs had seven catches for 93 yards and two touchdowns.
--Jan. 10, 2016 was the last time the Vikings played in and hosted a playoff game. The temperature that day: minus-6 with a wind chill of minus-25.
That wasn't especially bad because it also came one game before the team moved from its two-year temporary outdoor venue at the University of Minnesota to U.S. Bank Stadium, a $1.1 billion enclosed climate-controlled palace.
The Vikings' 10-9 loss to Seattle on that rather chilly day marked the coldest playoff game in team history and the third-coldest in league history.
The temperature for Sunday's game against the Saints will be hovering around zero. Head coach Mike Zimmer was asked if the team has an option to open the giant glass panels behind the north end zone. Those panels have been opened during warmer-weather games.
"If it's minus-2, we're going to have the doors open so (the Saints) have to wear their long johns," Zimmer joked. "No, they won't open the doors. They're afraid the pipes might freeze, and then we'd have a lot of issues."
NOTES: WR Adam Thielen had nine catches for 157 yards in the Week 1 win over the Saints. He finished eighth in the league in catches (91) and fifth in receiving yards (1,276). ... WR Stefon Diggs had seven catches for 93 yards and two touchdowns in the Week-1 win over the Saints. It was one of three multi-touchdown games in Diggs' career. ...
FS Harrison Smith, named first-team All-Pro for the first time, joined Buffalo's Jordan Poyer as the only players in the league to reach 70 tackles, five interceptions and one sack this season. ... CB Terence Newman (foot) was limited in Wednesday's practice. The 39-year-old, who shares the nickel-back position with Mackensie Alexander, is expected to play on Sunday. ... DT Shamar Stephen (ankle) was limited in Wednesday's practice. He is a good run defender who is part of the team's defensive line rotation. He should be able to play. ... TE Kyle Rudolph, who has been limited in recent weeks because of an ankle injury, was a full participant in Wednesday's practice. ... C Pat Elflein, who has missed two of the last four games because of a shoulder injury, was a full participant in Wednesday's practice.
Copyright © 2018 TTWN Media Networks LLC

Vikings Blog
Want to know more about the Vikings Blog? Get their official bio, social pages & articles on KFAN FM 100.3!
Read more