Vikings @ Bears - BY THE NUMBERS | KFAN 100.3 FM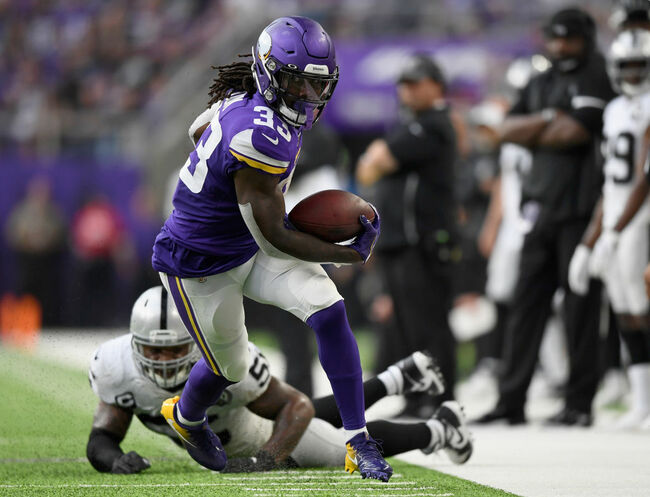 1 - 100-yard rusher allowed by the Bears in last 37 games
Over the past 37 games, the Chicago bears have only allowed one runner to eclipse the 100 yard mark. That runner, Latavius Murray when he tapped the bears for 111 yards and 2 TDs in the final game of the 2017 season.
2 - Sacks allowed by the Vikings this season
That's tied for best in the league with the Dallas Cowboys and San Francisco 49ers.
5 - Wide receivers in team history to catch and run for a touchdown in the same game.
Last week versus Oakland, Adam Thielen became the fifth wide receiver in team history to catch and run for a TD in the same game (John Gilliam, James Brim, Percy Harvin, Cordarrelle Patterson).
7 - Rushes of 20-plus yards for the Vikings this season
This number is tied for third most in the first three weeks of an NFL season stemming back to 1991! Dalvin Cook has already cracked off four of those while Alexander Mattison has added two and Mike Boone got in on the action with one as well.
19 - Tackles for loss by the Vikings this season
That's good for best in the league, tied with the Carolina Panthers through three weeks.
21 - Career Interceptions for safety Harrison Smith
With an Interception last week versus the Raiders, Vikings safety Harrison Smith tallied his 21st career interception. That moves Harry into the Top 9 in team history.
34 - Points off of turnovers for Minnesota this season.
The Vikings lead the league with 34 points off of turnovers this season.
68.7 - Yards allowed on the ground per game for the Bears this season.
That's good for 5th best behind Seattle, New England, Philadelphia and Baltimore.
82 - Combined sacks for Everson Griffen and Danielle Hunter
Since Hunter was drafted in 2015, Everson Griffen and Danielle Hunter have combined for 82 sacks, that the most among all NFL Duos during that span.
84 - Sacks at U.S. Bank Stadium for the Vikings
Since opening in 2016, the Vikings have tallied 84 sacks in their home stadium. That's the most in home games throughout the NFL over that period of time.
110 - At least 110 yards rushing and one TD in three straight games for Dalvin Cook
Only five players in the history of the NFL have started a season with three straight games of 110 yards and one rushing touchdown. Those backs are named Jim Brown, Curtis Martin, O.J. Simpson and Emmitt Smith.
193.7 - Number of yards per game rushing for the Vikings
The Vikings bring in the league's second most effective rushing attack only behind Baltimore's 216.7 ypg.
375 - Rushing yards for Dalvin Cook this season
Cook leads the league with 375 yards on the ground through three games and last wee he became the first running back in Vikings history to start the season with three straight 100 yard games, something that guys like Adrian Peterson, Robert Smith and Chuck Foreman couldn't do.
21,006 - Career passing yards for Kirk Cousins
Kirk Cousins popped up and over the 21,000 yard passing mark last week with a 174 yards passing against the Oakland Raiders.

Vikings Blog
Want to know more about the Vikings Blog? Get their official bio, social pages & articles on KFAN FM 100.3!
Read more