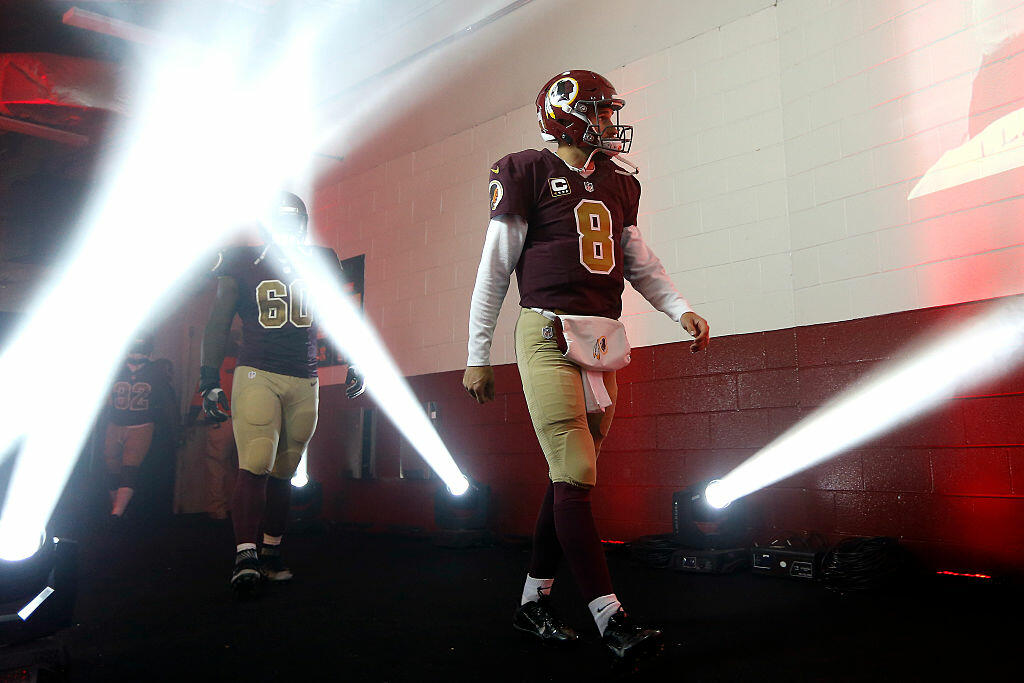 Are you tired about hearing everybody talk about Kirk Cousins yet? I can understand if you are.
Since the combine kicked off last week it's been a bit of overload on the Cousins front and being typical Minnesotans the fatalism is kicking in.
"It's too good to be true." "It's going to fall through." "We're going to get left with no one."
It's what we do here. Well, I'm operating under the assumption that it's happening so deal with it.
Now let's break it down in a way that you probably haven't heard yet. Furthermore, let's take a look at some numbers that are sure to sway even the biggest Cousins detractors.
Credit where credit is due, our guy Paul Charchian dug these numbers up when filling in for Dan Barreiro this week and as Charch is wont to do, he presented them with the craziest level of excitement EVER!
Before we get to the written transcript, I would encourage you to listen to the full explanation in the podcast below.
Okay, did you listen to it? Well let's re-hash this all now again thanks to Charch.
Below is a list of ten stats that you simply can't argue with. If you are a Cousins doubter, read these numbers and then come back for a chat.
Now these numbers are pulled from an accumulation of the past three seasons, the time since Cousins was named the full-time starter in Washington.
13,176 yards passing since 2015...
A few things year. First, that's a lot of passing yards. In fact it's more than 4,000 in each of the last three years. Secondly, that was 4th best in the league over that period of time. I'm talking ahead of guys named Wilson, Roethlisberger, Brady, Manning and Ryan.
275 yards passing per game on average...
That total right there, it's NEVER happened in Vikings history ever. Not Tarkenton, not Culpepper, not Moon, not Favre, not Ponder...okay that last one was a joke, but the rest of them were real.
81 passing touchdowns over the past three years...
Kirk has thrown 81 touchdowns passed as a starter. That's good for 8th best in the league over that time and he's done so with little to no targets at his disposal.
13 rushing touchdowns for Captain Kirk...
What doesn't get talked about enough is Kirk's acumen for running the football as well. Averaging more than 3-yards per run Cousins has also tacked on 13 rushing touchdowns in the past three years, that's third best in the league behind only Cam Newton (21) and Tyrod Taylor (14).
41 First downs...on the ground...
Just to add to the impressive ground numbers, let's talk elusiveness. Assuming that the Redskins didn't run a whole lot of designed run plays for Cousins, his elusiveness has led him to run for 41 first downs the past three seasons.
67% completion percentage...
That's right, Cousins completes 67% of his passes as a starter. That's third best over this period of time behind only Drew Brees and Sam Bradford. But we've seen this before right? Sam Bradford set the NFL season record two seasons ago with a bunch of dump off passes and high probability passes. Is that what Cousins is doing too?
Not really...
7.8 yards per pass attempt...
Cousins is 4th in the league the last three seasons for yards per pass attempt so the argument about dump offs is not valid, not one bit.
0 games missed due to injury over the past three seasons...
Despite being sacked 90 times the past three years, Cousins has proven he can take a hit and bounce back up ready to go. Since being named the starter in 2015, Cousins has not missed a game, not a single ankle sprain or shoulder twinge that's kept him out. He's durable, he's tough and he probably knows how to smartly take a hit or avoid a hit.
11 game winning drives in the fourth quarter...
A lot of people have ragged on Kirk for padding his numbers because his team is always down by a ton of points in the second half. Well how's this for purposeful drives. Last year Cousins led the league with 4 fourth quarter game-winning drives. The year before, he had 5 game-winning drives. In total, he has 11 such drives over the past three seasons.
*13 wins a season if he had an average defense
I'll throw an asterisk up on this last one since it's hypothetical, but another dig at Cousins is his win totals. The last three years those numbers capped out at 9 wins, 8 wins and 7 wins. That's not great, but that was in Washington, with their sub-par defense. If the Redskins defense had been simply average, middle of the road over the past three seasons those totals would have read 13 wins, 13 wins and 13 wins. Again, those projected numbers were with the 16th best defense in points allowed per game, not even a top 3 defense like the Vikings are expected to have again.
Again, a special thanks to Paul Charchian for all of these data points. How can you not get excited about the prospect of having Cousins on this squad come next week.
Now the big question is, are those numbers requisite of $30 million a year? That's another question for another time...for now, use these numbers to win an argument with all your stubborn co-workers that don't think Cousins is a top-flight free agent quarterback.