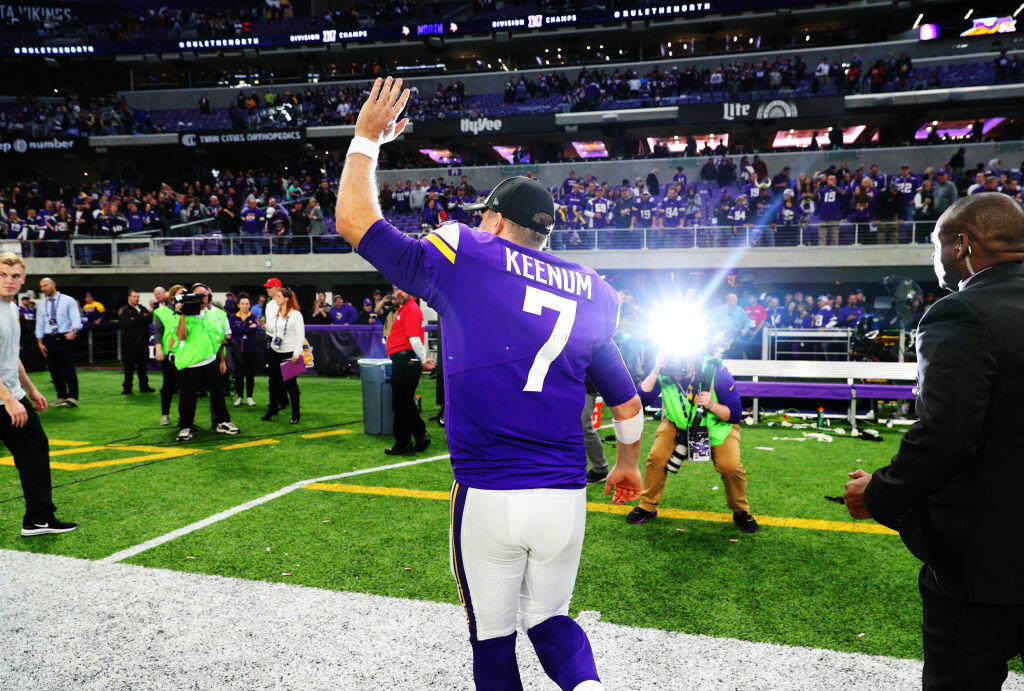 On March 31st, 2017 the Minnesota Vikings signed a backup quarterback named Case Keenum to a one year, $2 million deal. The plan on that day was for Keenum to back up starting quarterback Sam Bradford, but we know that's not how it played out.
In the big scheme of this whole ordeal, Keenum's time in Minnesota will be one of the shortest for a quarterback in the history of the team, but now that he's gone off to Denver and the Broncos we can look back and see how impactful his time with the Vikings really was.
Thrust into a starting role in only the second week of the season, fans saw a backup quarterback that looked like a backup quarterback. From Houston to Los Angeles, we've seen this Case Keenum before and the thought was that if Bradford couldn't fight back from his injury, it could be a long season.
Again, that's not what happened.
In the public eye, Keenum's rise to be the undisputed starting quarterback was a slow one. Mike Zimmer didn't help that situation with his weekly comments and decision not to name a "starter". Ultimately that might have been what pushed Keenum out of Minnesota, but it was certainly one of the motivating factors that pushed him to one of the best seasons in team history.
That scenario rubbed Case the wrong way. He wasn't completely shy about those frustrations but he never made it about him. He channeled that frustration, that anger and turned it into a successful season and nearly $20 million a year with the Broncos.
We'll never forget the week-to-week of not knowing who was going to be the starter. The debate that raged on in the media, in the break room at your office and seemingly in the coaches room at Winter Park.
We'll never forget Keenum coming up huge time after time each week. Wiggling his way out of a sure thing sack only to escape and hit Adam Thielen for a big time conversion on third down.
We'll never forget the way he *seemingly* adopted Minnesotans as his own. It was the Player's Tribune article where we all shoveled his driveway, that was the moment where people who aren't even into football latched on to Case Keenum. That was followed by an article from his wife who had done the same with their new community.
Then there's the Minneapolis Miracle. How could we ever forget that. I personally will never forget the feeling we all felt of "here we go again." The Saints had stormed back from a gigantic deficit and the Vikings were on the verge of wetting the bed in front of the home crowd once again. But then it didn't. Case gathered his teammates in the huddle and told them I'm going to give somebody a chance, get open. Diggs did just that, Marcus Williams missed the tackle and the place went bonkers! The video of Case Keenum, just as shocked as everybody else, running up and down the field hugging anybody wearing purple, unsure of what he should do or where he should go, I'll never forget that. It was essentially my reaction in the press box as I hugged Ron Johnson, slapped Cory Cove on the back. We can all relate to that elation.
And then there was the moment that it all came to an end in Philly. With the wound still wide open, Case joined KFAN and shared his appreciation for this season, his uncertainty about what was next and the raw pain that he was feeling in that moment.
For a quarterback that spent less than one year in the state, started as the backup and was never supposed to see the light of day, Case Keenum had one of the biggest impacts on this state and this community in his short time here.
It's hard not to like the guy and as we are wont to do, there will be many Vikings fans who will be making the Denver Broncos their AFC team of choice.