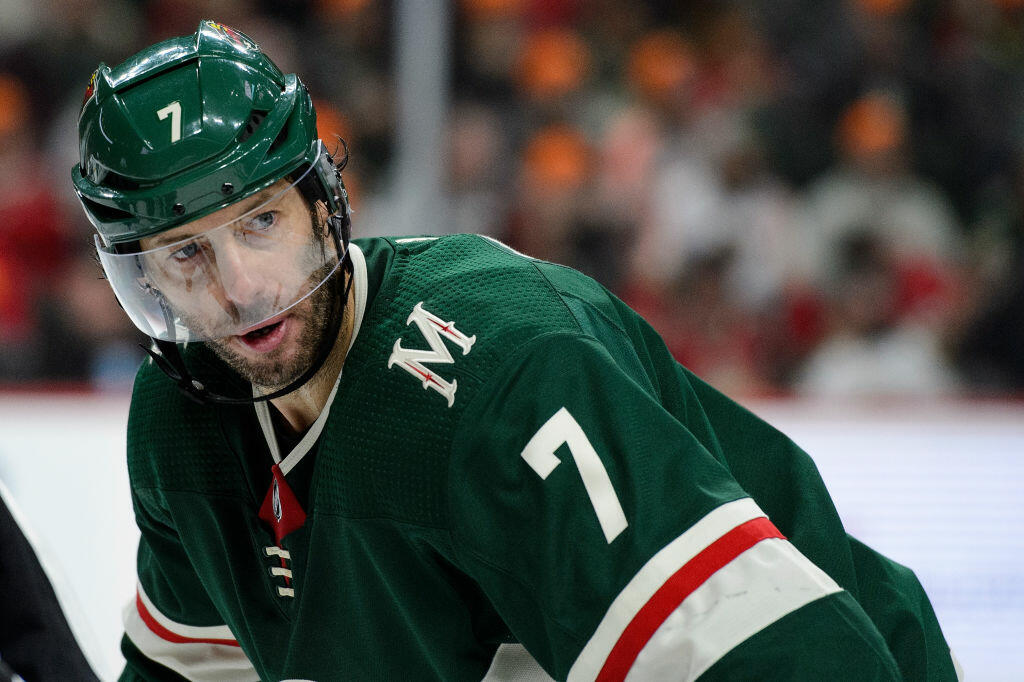 Photo: Getty Images
SAINT PAUL, Minn. - The Twin Cities chapter of the Professional Hockey Writers' Association (PHWA) today announced the nomination of Minnesota Wild center Matt Cullenfor the National Hockey League's (NHL) Bill Masterton Memorial Trophy. The trophy is presented annually to the player who best exemplifies the qualities of perseverance, sportsmanship and dedication to hockey.
Cullen, 41 (11/2/76), has recorded 21 points (10-11=21) and won 333-of-661 faceoffs (50.4%) in 73 games this season as the oldest player in the NHL. The Virginia, Minn., native reached the double-digit goal mark for the 16th time in his 20 NHL seasons in 2017-18. The three-time Stanley Cup Champion has skated alongside players who were born after his NHL career began, including the debut this season of his Wild teammate Luke Kunin, who was born 37 days after Cullen's first game in the League in 1997. Cullen celebrated his 41st birthday on Nov. 2 by becoming the oldest U.S.-born player to register a goal and assist in the same game. He became the 38th player in NHL history to skate in 1,400 career games on Dec. 22 - the fourth American and fourth active player to hit the mark. The 6-foot-1, 202-pound center also posted his 700th career NHL point on Jan. 20, becoming the 233rd player in NHL history (24th active) to reach the milestone.
Cullen owns 710 points (258-452=710) in 1,439 career NHL games with Anaheim, Florida, Carolina, the New York Rangers, Ottawa, Minnesota, Nashville and Pittsburgh. He ranks third amongst active NHL players in games played and has won more than 50 percent of faceoffs taken in every season since 2003-04. He has also registered 56 points (18-38=56) in 123 career Stanley Cup Playoff games and won the Stanley Cup three times: in 2006 with Carolina and in 2016 and 2017 with Pittsburgh. The former Moorhead Spud and St. Cloud State Husky ranks second all-time among Minnesota-born players in NHL games played, fourth in assists and points, and fifth in goals. Cullen signed as a free agent with Minnesota on Aug. 16, 2017, and was originally selected by Anaheim in the second round (35th overall) of the 1996 NHL Entry Draft.
Matt, his wife Bridget, and their family have played a major role in community initiatives, including the creation of the Cullen Children's Foundation. Since its inception in 2005, the Cullen Children's Foundation has donated more than $3 million to organizations that support children's healthcare needs, with an emphasis on children battling cancer. The Cullen Children's Foundation has increased the quality of life for thousands of children who are dealing with life-threatening diseases, and their families.
The winner of the Masterton Trophy is selected by a poll among the 31 chapters of the PHWA at the end of the regular season. NHL writers first presented the trophy in 1968 to commemorate the late Bill Masterton, who played for the Minnesota North Stars and exhibited to a high degree the qualities of perseverance, sportsmanship and dedication to hockey. Masterton died on Jan. 15, 1968 as a result of head injuries suffered during a game.
Eric Staal (2016-17), Nate Prosser (2015-16), Devan Dubnyk (2014-15), Josh Harding(2013-14, 2012-13), Clayton Stoner (2011-12), Pierre-Marc Bouchard (2010-11), Guillaume Latendresse (2009-10), Kurtis Foster (2008-09), Aaron Voros (2007-08), Marian Gaborik(2006-07), Wes Walz (2005-06, 2000-01), Alexandre Daigle (2003-04), Dwayne Roloson(2002-03) and Richard Park (2001-02) were previously nominated for the award. Harding was named the 2013 recipient of the Bill Masterton Memorial Trophy on June 14, 2013, to become the first player in Wild history to win a voted-on NHL Award. Dubnyk was named the recipient of the 2015 Bill Masterton Trophy on June 24, 2015.